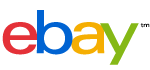 This is one crazy eBay auction.
I don't think they will ever let it expire, lol. But if they do, easy money right there. Someone should buy the domain!

"I have purchased a backorder plan for the domain name "ebay.com" A MUST have collectable for any ebay fan!!! As soon as Ebay allows it's domain registration to lapse, IT'S YOURS!!!! The backorder service will attempt to snatch it up right away as the domain expires!!!

The seller makes no guarantee as to the time frame of the backorder's complete execution. This depends solely on the actions of Ebay. But potentially, years from now, Ebay will allow registration of the domain name Ebay.com to lapse.

The potential for this domain is unlimited. Use the well-known household name to draw traffic for your own web site packed full with "BLINK" tags and animated GIFs!!! It can be filled up with ad banners and you will reap millions in revenue. Or, if fortune smiles upon you, ebay will fail to re-register via an adminstrative error, and you will be able to name your price for them to buy it back. The ULTIMATE Ebay snipe!!!!! Hold Ebay hostage for fun and profit!!!!!!

Oh what fun and profit is to be had indeed. Bid early, bid often, as this baby is certain to skyrocket! NOW'S YOUR CHANCE TO OWN A PIECE OF INTERNET HISTORY!!!!"
http://cgi.ebay.com/ws/eBayISAPI.dll?ViewItem&ssPageName=ADME:L:LCA:US:31&item=7546154213

edit:
The item got removed from ebay (Heh, I don't understand why :D ). So here some hot Giorgia Surina photos to make it up.